Aadhaar Card Updation, Enrolment: UIDAI Clarifies, Says No Last Date
The UIDAI or Unique Identification Authority of India – the issuer of the 12-digit Unique Identity Number (Aadhaar number) as well as Aadhaar card – has clarified on updation of Aadhaar. The UIDAI said, in a communication to the general public posted on microblogging site Twitter, that there is no last date set for enrolment or updation of data fed into Aadhaar card. The UIDAI, the Aadhaar card-issuing body, cited some rumors "being spread on social media" in this regard. "Some rumors are being spread on social media regarding last date for Aadhaar enrolment/update. The resulting chaos is causing inconvenience to residents. DO NOT believe in any such thing," the UIDAI said.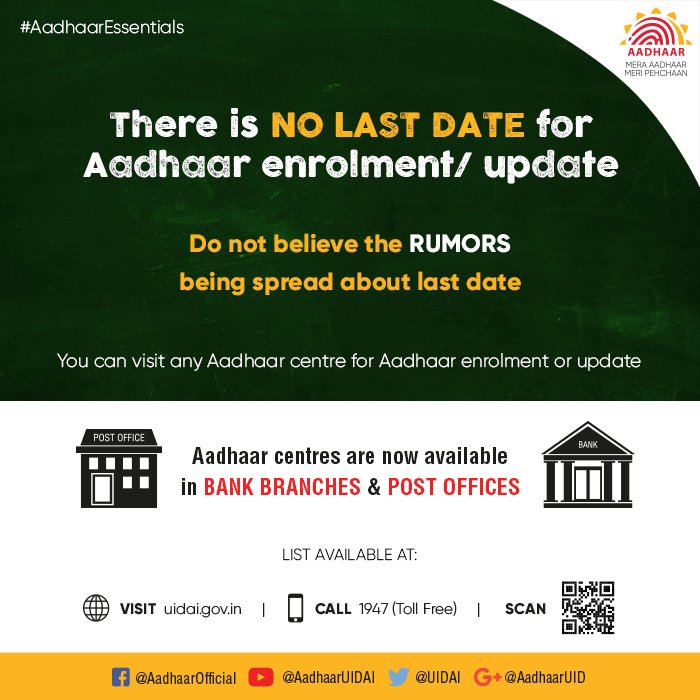 Read more ↓
Individuals looking to take up Aadhaar enrolment or updation, the UIDAI said, can visit an Aadhaar centre. It also said Aadhaar centres are now available at bank branches as well as post offices. The UIDAI also said the list of Aadhaar centres can be accessed online, through the UIDAI portal – uidai.gov.in, as well as its helpline '1947', set up for addressal of for Aadhaar-related queries.

Any resident with a registered mobile number can update the Aadhaar address using this portal, says the UIDAI. "Registered Mobile number is mandatory to receive password for login," the UIDAI adds.
The UIDAI portal only allows a user to update his or her address given on Aadhaar through this portal. For other updates, the users can visit an Aadhaar enrollment or update center, according to the UIDAI.
How to request Aadhaar card address updation online via uidai.gov.in
Once you visit the UIDAI website, spot and click on the 'Address Update Request (Online)' link. This tool can also be accessed directly via a link.
Enter your 12-digit Aadhaar number and click on 'Send OTP' to proceed. After this, the UIDAI portal will send an OTP or One-Time Password to your registered mobile number.
Enter this OTP in the specified field on the UIDAI portal and click on 'Login' to proceed.
On the next page, select 'address' and proceed.
Fill in the new details carefully. Ensure that your information is transliterated correctly in the local language, adds the UIDAI.
Tally the details thoroughly and proceed.
At the end of submission, a URN or Update Request Number is issued to track the status of application.
Source by ndtv..
Share:
loading...