Aadhaar Mobile Number Can't Be Updated Without Biometric Authentication. How To Change It
Those looking to change their mobile number fed into Aadhaar system need to visit an Aadhaar Kendra or Aadhaar centre to do so. Aadhaar mobile number update requires biometric authentication and it cannot be done by post or online. This was said by the UIDAI or Unique Identification Authority of India – the issuer of the 12-digit Aadhaar number or Unique Identity Number (UID) as well as Aadhaar card – on microblogging site Twitter. This is why, the UIDAI explains, you need to visit the nearest Aadhaar Kendra (Aadhaar centre).
"Registering/updating mobile number in Aadhaar requires biometric authentication. It cannot be done via Post or online mode. Visit to Aadhaar Kendra is must," the UIDAI noted.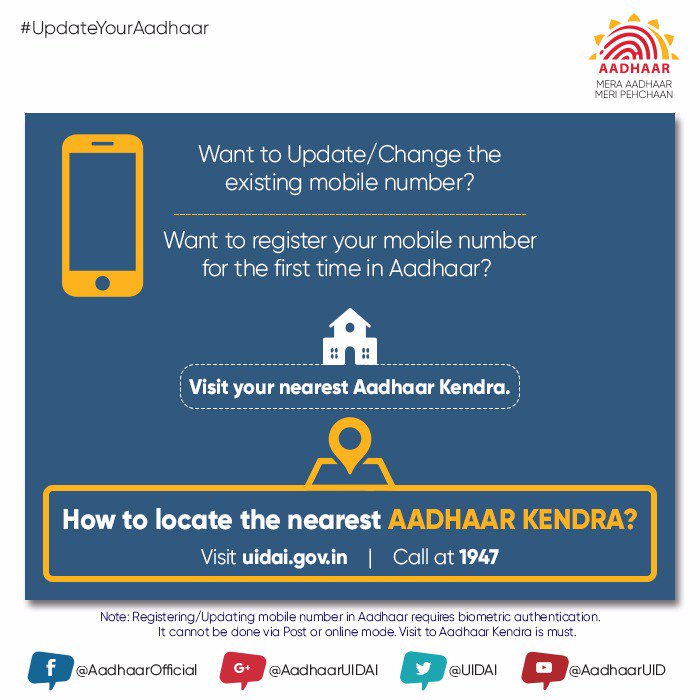 Read more ↓
Aadhaar card: How to locate nearest Aadhaar centre
The UIDAI also provides several online tools related to Aadhaar card. One of these tools enables users to locate the Aadhaar Kendra or Aadhaar centre nearest to them. The UIDAI shared a link to this tool. The UIDAI also shared telephone helpline 1947 for information on Aadhaar Kendra.
Aadhaar card: How to update your registered mobile number
A change in the registered mobile number can be made by visiting the nearest Permanent Enrolment Centre. The Aadhaar holder has to be present with the Aadhaar card at the Permanent Enrolment Centre for a change in the registered mobile number, an executive on the UIDAI helpline 1947 said. No other document is required, the executive added.
The UIDAI has shared helplines 1947 (toll free) and help@uidai.gov.in for queries relating to Aadhaar, according to the UIDAI website.
The UIDAI portal also enables users to search for information about Aadhaar centres using different criteria.
Source by ndtv..
Share:
loading...