Motorola Moto X4 review
Introduction
Once Motorola's flagship phone, the X went through an episode of multiple personality disorder in 2015 (remember the Style, Play and Force?) only to be replaced at the top by the Moto Z last year. Feeling at home in the midrange, the X-series is now in its fourth generation. Meet the Moto X4.
Motorola's mid-tier is pretty crowded and the Moto X4 slots in between the G5S Plus and the Z2 Play – pricewise mostly, because the spec sheets need to be analyzed more closely for the full picture. Suffice to say, the Moto X4 has the best chipset of the bunch. The Snapdragon 630 should give it an edge in graphics, plus it adds other goodies like Wi-Fi ac.
Read more ↓
The display is smaller on the X4 than those other two, but we can see how the 5.2-inch diagonal will appeal to compact phone lovers. It's an LCD, so if you're into AMOLED, you need to look elsewhere, possibly at the Z2 Play.
The X4 comes with a dual camera at its back, a regular/ultra-wide setup a la LG. Only, unlike your G6 or V30, the X4 can do blurred-background portraits. As far as we know, that's the only such combo in existence. Oh, and the primary 12MP cam has dual pixel autofocus, our favorite.
One other thing the Moto X4 has going for it is Android One – who doesn't like timely updates? One little caveat, though: the X4 is only available as an Android One device in the US on Google's Project Fi. Oh, well… Motorola's customizations like the MotoDisplay come as standard though, Android One or otherwise.
Unboxing
The Moto X4 ships in a cardboard box, its contents covering all the basics. Our unit came with a TurboPower 15W charger, but Motorola product pages say that it varies by region – some folks may get a more modest adapter.
Other than that, there's a USB cable and a headset – not a very fancy one either, but you're all set right out of the box, that's for sure.
Motorola Moto X4 360-degree spin
The Moto X4 measures 148.4 x 73.4 x 8mm, which is about right for a phone with a 5.2-inch display these days. That said, the Nokia 7 is 7.2mm shorter and almost 2mm narrower, so it may be worth looking into if you're choosing the 5.2-inch diagonal over 5.5 inches specifically for compactness.
Others like the Huawei P10 Lite and HTC U11 Life are closer to the X4's footprint, the latter actually being taller – a minuscule 0.7mm taller, but still. The Galaxy A5 (2017) is the narrowest of this impromptu upper-midrange round up at 71.4mm wide, a negligible 0.1mm less than the Nokia. The Galaxy is as tall as the P10 lite at 146.5mm, 1.9mm shorter than the X4.
Motorola Moto X4 360-degree spin
The Moto X4 measures 148.4 x 73.4 x 8mm, which is about right for a phone with a 5.2-inch display these days. That said, the Nokia 7 is 7.2mm shorter and almost 2mm narrower, so it may be worth looking into if you're choosing the 5.2-inch diagonal over 5.5 inches specifically for compactness.
Others like the Huawei P10 Lite and HTC U11 Life are closer to the X4's footprint, the latter actually being taller – a minuscule 0.7mm taller, but still. The Galaxy A5 (2017) is the narrowest of this impromptu upper-midrange round up at 71.4mm wide, a negligible 0.1mm less than the Nokia. The Galaxy is as tall as the P10 lite at 146.5mm, 1.9mm shorter than the X4.
When it comes to weight, the Moto X4 is on the heavy side of the 5.2-inch spectrum with its 163g. The Galaxy A5 (2017) isn't much lighter at 157g, but the P10 Lite (146g) and HTC U11 life (142g) are tangibly lighter. No number to be found for the Nokia 7's weight anywhere on the internets.
Hardware overview
We had almost forgotten the Samsung Galaxy S7 (non-edge), but its design lives on in the Moto X4. That is, you start to see the resemblance if someone points it out – it's not necessarily an immediate 'copycat!' reaction.
The aluminum frame is finished to a fine satin sheen and ends on a shiny chamfer on the display side – the S7 had the same accent on its back too. The back is curved towards the sides in a similar fashion making the device look thinner and feeling so in the hand.
he curve, however, also means there's no MotoMods support on the Moto X4. Or rather, once it was decided that the X won't take snap-on accessories, they figured they could make it curved. In any case, if you want the add-on versatility of Motorola's MotoMods you need to look at the Z-series.
The Moto X4 is covered with Gorilla Glass 3 on both sides, and in the Sterling Blue version we have here the glass is painted underneath in such a way that it plays with light and turns from blue to gray depending on how light hits it. This is the hero color, and we only got to see the (Super) Black version at a dimly-lit venue, but we reckon it isn't as flashy in daylight as the Sterling.
The watch bezel-like camera bump on the back is a stunner itself – the border has a radial pattern while the inside is all about concentric circles. This clash of patterns is really quite attractive and unique, though some might find the upside-down smiley face a bit depressing.
The mic pinhole, on the other hand – we can't picture anyone liking that thing. Then again it would probably be nigh invisible on the black version. From a practical perspective, however, what good is a secondary mic for in-call noise cancellation if you're going to have your hand blocking it at all times? Wait, there's a third one on the top plate – all is well.
There's another pinhole of the same sort on the front – for the primary mic. That one is mostly safe from being covered when talking, and is less of an eye sore on the facade where there are all sorts of cutouts. Before we get to those, let's mention the front mounted fingerprint sensor – it's generously sized and can serve more than that one purpose of unlocking the Moto X4. More on that in the software section. Oh, we should add it's not a button, it doesn't click.
Above the display there's the earpiece front and center. It moonlights as a loudspeaker – a single one (boo), but a front-firing one (yay). To the right there's a pair of sensors (ambient light and proximity) and the front facing camera.
In the top left corner you'll find the front facing flash – a single LED one vs. the Moto Z2s' dual setups. Now, in between the flash and the earpiece there's another LED, one that would serve for notifications on an ordinary phone, but on the X4 it's disabled because of the MotoDisplay feature. It's not the same thing, Moto! Apparently the LED only lights up when the battery level is critically low and that's it.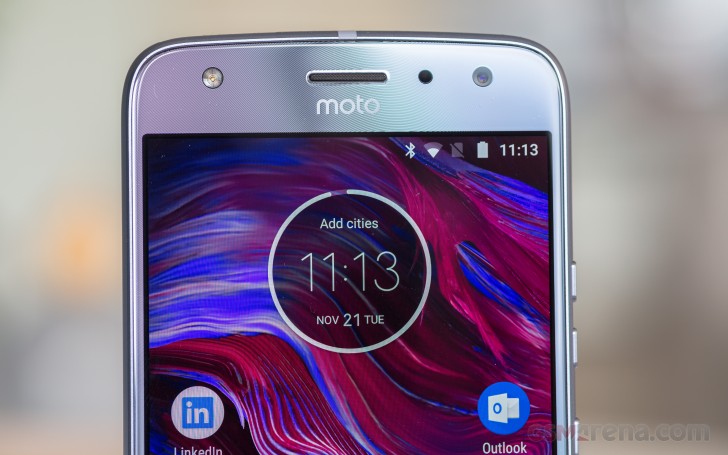 The power and volume buttons are on the right side of the phone which combined with the identical size is a recipe for wrong clicks. To combat that the engineers have added a texture to the power button and placed the discrete volume buttons in a common groove in the frame – it's something, though not as fool-proof as, you know, buttons on different sides of the phone. The power button in particular could have been larger too.
Up top you'll find the card slot. Our unit takes two nano SIMs or a nano SIM and a microSD card, but not all three at the same time. Single SIM versions of the Moto X4 will obviously not accept two nano SIMs, but the option for storage expansion remains. The card tray has a rubber gasket to make sure no water goes in through here – that IP68 rating needs some dedicated hardware too.
The USB-C port is at the bottom and the 3.5mm jack is next to it. Scattered around here are the regulatory labels – always there, yet well out of sight, brilliant.
It's a compact phone, the Moto X4, at least by 2017 standards. It's smaller than the dominant 5.5-incher and is thus more pocketable, yet with its classic ratio offers the same 16:9 viewing area as a 5.8-inch Galaxy S8. It's also much more easily manageable than the Moto Z2 Play or Force.
Brightness isn't impressive at around 430nits – this is AMOLED ballpark, and better AMOLEDs can even go higher, while LCDs typically reach 550-600nits. We couldn't measure a boost in brightness with Auto engaged either. Well controlled black levels mean contrast is very good, though.
Display test
100% brightness
Black, cd/m2
White, cd/m2
Contrast ratio
Motorola Moto X4
0.297
431
1451
Motorola Moto Z2 Play
0
432
∞
Xiaomi Mi A1
0.351
551
1570
OnePlus 5
0
435
∞
OnePlus 5T
0
437
∞
Samsung Galaxy A5 (2017)
0
413
∞
Samsung Galaxy A5 (2017) max auto
0
559
∞
Samsung Galaxy J7 (2017)
0
348
∞
Samsung Galaxy J7 (2017) Max Auto
0
482
∞
Sony Xperia XA1
0.512
537
1049
Sony Xperia XA1 Plus
0.376
591
1572
Huawei P10 Lite
0.351
560
1595
HTC U11 Life
0.357
546
1529
Sunlight legibility is okay and is above average for an LCD in this class. Most AMOLEDs are superior in this respect, even the lower-end ones.
OnePlus 5T

4.789

Motorola Moto Z2 Play

4.459

OnePlus 5

3.914

Samsung Galaxy J7 (2017)

3.812

Samsung Galaxy A5 (2017)

3.804

Motorola Moto X4

3.012

Sony Xperia XA1

3.012

Huawei P10 Lite

2.974

Xiaomi Mi A1

2.689
Color accuracy isn't something the Moto X4's display can brag about. In its default Vibrant mode we measured an average DeltaE of 6.7 when targeting the sRGB color space (7.1 against P3), while the more muted Standard mode led to a minor improvement – an average DeltaE of 5.3 measured against an sRGB target. In either mode whites are very obviously shifted towards blue.
Connectivity
The Snapdragon 630 that's the heart of the Moto X4 comes with an improved modem compared to the 625/626 models and supports 3-carrier aggregation and Cat. 12/Cat.13 LTE for speeds up to 600Mbps of download and 150Mbps of upload (though these numbers may vary by region and network). Single SIM and dual SIM versions exist, but again, not necessarily both will be available in all markets.
Another perk of the newer chip is Wi-Fi ac, the 62x models had a/b/g/n, but no ac. The Moto X4 supports NFC too and there's also an FM receiver as an added bonus. For the time being, the phone supports Bluetooth 4.2, but come Oreo it will get a bump to Bluetooth 5 – the hardware is there, the support isn't. Positioning is done with the help of GPS, GLONASS, and Galileo satellites.
The Moto X4 uses the USB-C interface for charging and wired connectivity, but Motorola doesn't specify which version of the USB standard it complies with – we reckon it's 2.0. There's also a 3.5mm jack for connecting your own headphones – or the bundled ones.
Motorola Moto X4 battery life
The Moto X4 is equipped with a 3,000mAh power pack. We'd call that number the gold standard for a 5.2-inch midranger these days – the Galaxy A5 (2017), Huawei P10 Lite, and Nokia 7 all have the same capacity. The HTC U11 life is the odd one out with just 2,600mAh.
In our tests, the Moto X4 showed it's adequately powered, if you look beyond what's at first glance a meh endurance rating. 19+ hours of 3G calls is more than enough, while close to 12 hours of Wi-Fi browsing is actually excellent. Upwards of 10 hours of video playback isn't too shabby either.
Why then the lowly endurance rating? The Moto X4 recorded rather high standby battery draw, which inevitably affected its final score. Oh, well.
The Moto X4 ships with a TurboPower charger in the box in some regions – our unit had one. It outputs up to 15W of power. The phone should, in principle, be compatible with Qualcomm's QuickCharge 4 standard.
We tested with the bundled charger and got just under 40% after a 30-minute charge from flat. We have a bunch of third party QC3.0 chargers, so we tested with one of them and got the same result.
Starting off with the launcher, it looks a lot like the original Pixel's launcher, complete with a swipe-up app-drawer. You can tap and hold the white tab on the right of the drawer to scroll through apps by letter. The most frequently used apps are on the top row.
The Moto launcher also supports long press on apps that have it implemented. You can then drag the functions out as independent shortcuts for quick access as well.
Launcher settings are pretty barebones. The wallpaper chooser is the same one found on the Google Pixel and on the Play Store as Google's "Wallpapers" app. You can choose between live wallpapers and various categories. Most have a nice minimalist feel to them, if you are into that sort of thing.
Widgets are also a familiar deal: scroll through widgets and you tap-and-hold to place them on your home screens. There are two more options behind the Settings cog: A home screen rotation toggle (which is ON by default), and a toggle for showing your Google Feed on the leftmost screen.
The lockscreen has your standard notifications view: double tap on a notification to open the app or pull it down for more information. Otherwise, there are two shortcuts here: swipe from the left for a Google Assistant Voice Search or Swipe from the right for the camera.
There are two places where you can interact with notifications: the lock screen and the Moto Display screen. We'll talk about Moto Display in the Moto Enhancements section. Quick Replies is another stock notification feature, carried over to the Moto launcher. You can reply to certain actionable notifications right from the lock screen. However, the trick only works without a screen lock method or when Smart Lock is enabled. Otherwise you'll need to unlock the phone before you can Quick Reply.
The notification shade and most of the options it houses are pretty standard as well. A single swipe down offers a single row of toggles. A second or two-finger swipe shows even more, while an edit button lets you rearrange and add new toggles. Multiple user support also stands out. You can add another user or guest account to the phone.
The Moto X4's fingerprint scanner can be used in a number of ways. The obvious one is to wake/unlock the phone – it is always-on, blazing fast and also quite reliable.
For navigation use, as part of Moto Actions, it can fully replace the on-screen nav bar – tap to go Home, swipe left to go Back or swipe right to switch between recent apps. Gestures get detected pretty accurately, though you may find the left-right mechanics a little counterintuitive if you switch hands often.
Press-holding the sensor for a short time will lock the screen, while press holding it for a longer time will summon the Google Assistant. These two overlap and mastering them does take some time, but it's ultimately a great way to do away with the on-screen navigation bar in case it's not your thing.
Moto Enhancements
As already mentioned, Moto added features are really non-intrusive in nature. They have undergone quite a few cycles of refinement since the early days on the Moto brand and have gained quite a bit of extra functionality over the years. We enjoy the approach of the Moto App, which acts as a control center for all the actions and automated features of the phone.
The Moto X4's Moto Enhancements consist of four main categories: Moto Key, Moto Display, Moto Voice, and Moto Actions. We'll go through each category and the features that stand out the most.
Moto Key is two-pronged authentication app that serves as a password manager on the one hand, and as a means to log into to a tablet or a laptop, on the other.
Moto Actions
Before we get to the actual actions, is is worth noting that most of these have been optimized for years so their effect on the overall battery life is marginal. In the original Moto X, a dedicated contextual processor was needed to manage actions that involved physical gestures as part of Motorola's X8 computing platform. Contextual motion and voice sensing has been since been baked into Qualcomm's CPUs, minimizing the battery draw needed and eliminating the need for separate dedicated chips.
While we've seen most of these features in other smartphones, the two most notable are "chop twice for flashlight", and "twist for quick capture". "Approach for Moto Display" is unique to Moto. The phone's IR sensors on the chin of the phone pick up motion as you reach for the phone, which wakes up the Moto Display so you can glance at your notifications.
Moto Display
Moto Display now has an updated clock design with integrated battery ring, a new blue-colored theme, and direct-replies from the locked Active Display. There's no way to change the color, but you can select which apps to block, choose how much detail to show, and toggle the quick reply feature.
Also part of Moto Display is a new feature called Night Display. It's an increasingly popular feature: the phone will display warmer colors to filter out blue light to help you sleep better at night.
Moto Voice
Moto Voice no longer works exclusively with Google Search, and is now its own standalone assistant. In this new implementation it functions better with a low or unstable connection, and eliminates the need for a wake-word.
Upon setting up Moto Voice, you'll be asked to say commands like "Show me Maps" and "Show me my calendar". This is actually all you need to say to wake the phone up to do things efficiently. "Show me [App], Show me [my calendar/my day], Show me [the weather]".
These new "Show me" commands are more instantaneous than Google searches and display the information for a short time. Though if you still want to call someone, play music, or send a text, you'll have to use the "Okay, Google" command (which still works with the screen off). Moto Voice has reduced its footprint to give way for features that are already available from Google Assistant. Way to keep it lean, Moto!
Once under another category (Moto Assist), Talk to me is a feature that announces all your incoming notifications. You can set the Moto X4 to do this when it detects that you're driving, or if a headset is connected.
Source by gsmarena..
Share:
loading...