New PF Balance Transfer Process
EPFO said the new composite form, Form 11, helps EPF balance transfer to be done automatically when he/she joins a new company. .
With the introduction of a new simplified composite form, called From 11, by EFPO, transfer of EPF or employee provident fund money has got easier. New joinees are no longer required to file separate EPF transfer claims using Form-13 after changing jobs. The new composite form, Form 11, helps it to be done automatically. Form 11 replaces Form 13 in all cases of auto transfer. This was stated by EPFO in a circular dated September 20, 2017. Earlier, employees were required to file Form-13 for PF account transfer on changing jobs.
PF Balance Auto-Transfer
Read more ↓
1) The new joinee has to fill in personal details and other details like UAN (Universal Account Number) and previous provident fund number in Form 11.
2) UAN, which is a unique number assigned to an employee, acts as an umbrella for the multiple Member Ids allotted to an individual by different establishments.
3) The idea is to link multiple Member Identification Numbers (Member Id) allotted to a single employee under single Universal Account Number, which is allotted by Employees' Fund Organization (EPFO).
4) The employer then enters the information as given in Form 11 in the employer's portal.
5) The data submitted by the employee in Form 11 is then validated with the information available against the UAN.
6) In case, the UAN is Aadhaar seeded and verified, the declaration by the employer of transfer request made by the employee in Form-11 will trigger an auto-transfer process which will transfer the accumulations against his previous provident fund account (PF ID) to the new provident fund account.
7) An SMS informing the subscriber about the proposed auto-transfer will be sent on his/her registered mobile number.
8) Auto transfer will be completed only after the member does not request to stop the proposed auto-transfer (either online, or through employer or at the nearest EPFO office) within 10 days of the SMS, and the first contribution by the present employer is deposited and reconciled.
9) On transfer of the account, the new employee will be communicated by SMS on his mobile number seeded against the UAN and by e-mail, if registered.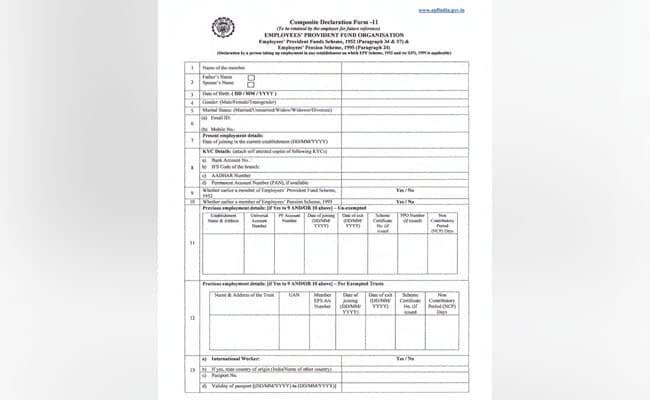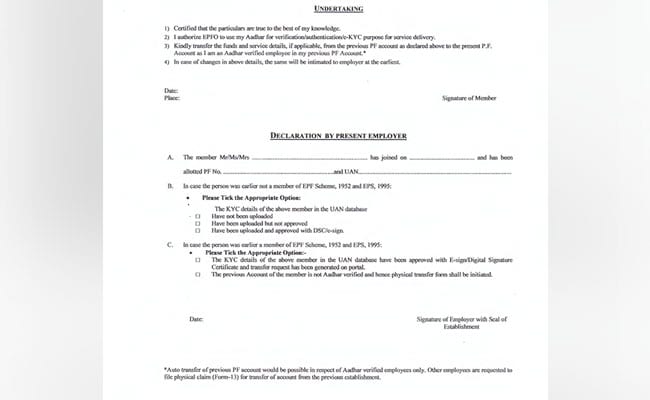 10) Auto-transfer of previous PF account would be possible in respect of Aaadhar verified employees only. In case the earlier UAN was not seeded with Aadhaar or UAN was Aadhaar seeded but not verified, the member needs to apply for transfer in Form-13.
Source by ndtv..
Share:
loading...