vivo V7+ review
The V7+ is also the premiere of Qualcomm's latest 14nm chip – the Snapdragon 450. It has an unimpressive octa-core A53 processor, but the Adreno 506 GPU and the new dual ISPs with native bokeh support are some welcome updates. There is also a new faster LTE modem and the V7+ comes with a tri-slot for two SIMs and a microSD cards, so you can fully utilize the phone's capabilities. And the base 64GB storage is much appreciated, too.
While the Snapdragon 450 has a modern Wi-Fi chip, vivo chose to cover just the basics and didn't utilize the dual-band feature. No NFC and no fast charging are also somewhat of a turn-off. But while the resolution might be stretching at 6″, the pixel density is still pretty tolerable, and we expect no pixelization whatsoever.
Read more ↓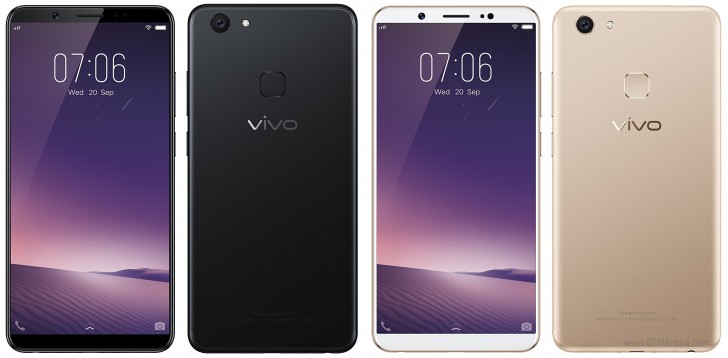 We are thrilled to check this new Qualcomm chip in action and see how things will work out with the new FullView screen in some gaming sessions. And knowing vivo, we already have some high hopes for that 24MP selfie eye. Shall we begin?
The vivo V7+ measures 155.9 x 75.8 x 7.7 mm – about the same as the Oppo F5 and R11s. The V7+ is lightweight at 160g probably because of its all-plastic build.
Design
The V7+ metallic looks are deceiving but let them not fool you – the phone is wrapped in an all-plastic unibody. As far as design go these days, there is little to experiment with, so we are already get used to the flat backs and curvy frames.
That's where the screen comes in – with some impressively tiny bezels an otherwise recycled design could look completely different. And that's the case with the V7+. The 5.99″ FullView display might not be top specked, but it has that eye-catchy flagship look and is protected by a 2.5D-finished Gorilla Glass 4. It should be more than enough to carry the cosmetic upgrades all by itself.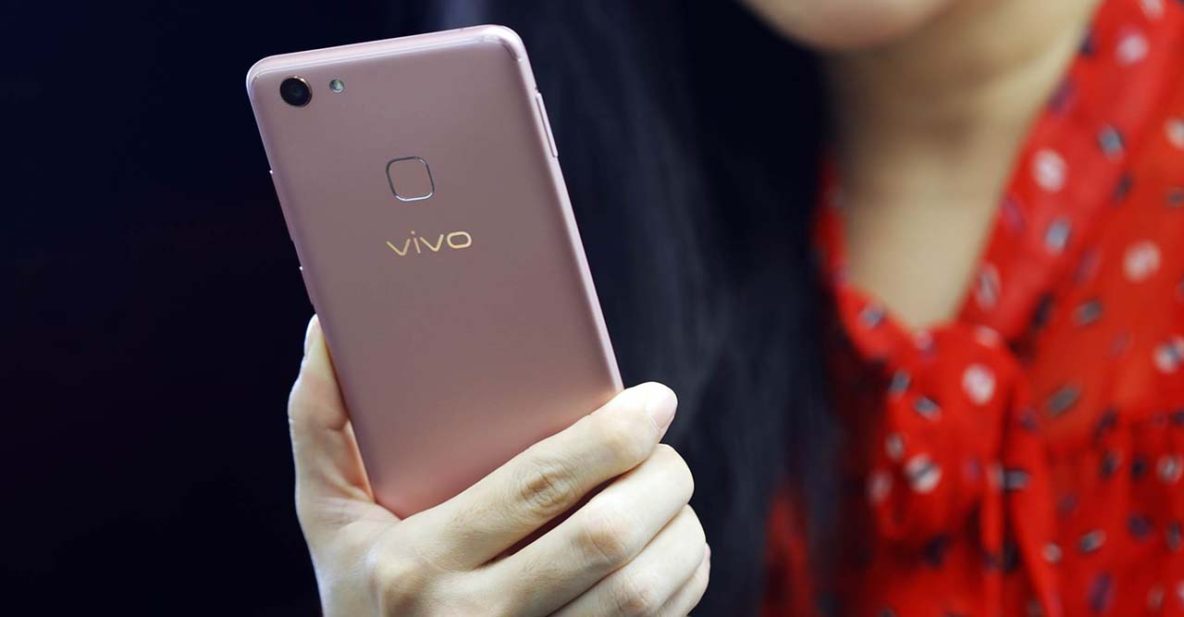 Flipping the vivoV7+ backwards reveals a familiar shell with flat surface and mirrored antenna lines. But as it turned out these sharp lines serve no functional purpose, just decoration. They were carved out of the plastic case and colored with a glossy paint the same way as the frame's chamfer.
The 16MP main camera is bulging just a little bit and probably has the only real piece of metal – the decorative ring around its protective glass. The fingerprint scanner is also around, nicely fitted at the center, and is of our favorite always-one super-accurate variety.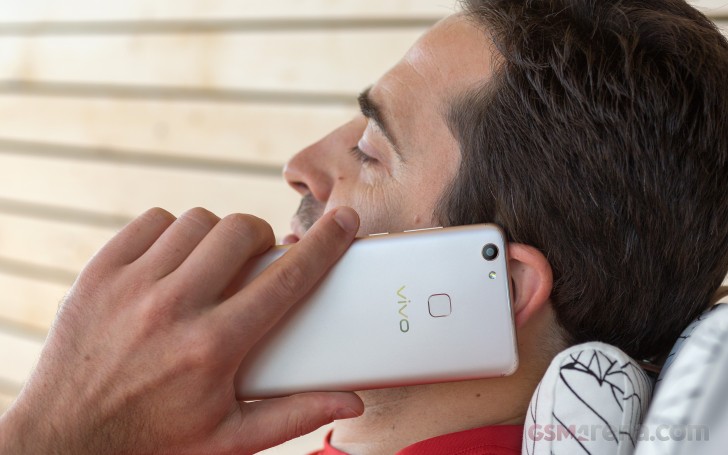 The vivo V7+ is far from unique, but trending it is. The design is lightweight and the phone fits quite well in hand. At 6″ the screen is not the easiest to operate with just one hand, but we still find the V7+ sleek shape very reasonably sized and user-friendly. And while handling the V7+ you may never really know it's not made of metal unless someone tells you so. Sorry to ruin this.
The vivo V7+ is one of these devices that keeps everything you may need around. Obviously, the front is mostly screen with the 24MP selfie camera and its LED flash flanking the earpiece. The triple slot (SIM, SIM, microSD) is on the left, while the power and volume keys are on the right.
The top of the V7+ has the lonely secondary mic. The mouthpiece, the loudspeaker, the microUSB port, and the audio jack are all at the bottom.
The 16MP camera lens is at the back, accompanied by a single LED flash. The fingerprint sensor is also around.
Vivo is among the first makers to offer the so-called FullView display on a budget mid-ranger. The almost bezel-less 18:9 display is 5.99″ big, which is a bit of a stretch for its 720×1440 resolution. Still, at 269ppi density we saw no pixelization, and while the screen won't top any charts, it is quite enough for the class.
Beneath the surface of the IPS LCD panel lies a standard RGB pixel arrangement with equal number of subpixels for each primary color.
The vivo V7+ display has a maximum brightness of 515nits and impressively deep black levels, which led to an excellent contrast of 1:1782. The color rendering is average – the screen offers mostly accurate colors but it looks a bit bluish and the representation of the white color is way cooler than it should be (DeltaE of 11.5). The overall color rendering out of the box worked out to an average DeltaE of 5.6, which is fine if you are okay with the cooler looking screen.
Display test
100% brightness
Black, cd/m2
White, cd/m2
Contrast ratio
vivo V7+
0.289
515
1782
vivo V5 Plus
0.348
475
1365
vivo V5
0.466
476
1021
Oppo F5
0.192
422
2198
Oppo F5 (Max Auto)
0.214
462
2159
Xiaomi Mi A1
0.351
551
1570
Xiaomi Redmi Note 4 (S625)
0.322
484
1503
Sony Xperia XA1 Plus
0.376
591
1572
Nokia 6 (Global version)
0.364
484
1330
Samsung Galaxy J7 Pro
0
350
∞
Samsung Galaxy J7 Pro (Max Auto)
0
539
∞
The sunlight legibility is okay but, the V7+ suffers from washed-out colors in the sun. Other than that, you will be able to comfortably see what's happening on the screen outdoors.
Battery life
There is a 3,225 mAh battery inside the vivo V7+. The phone ships with a rather standard 5V/2A plug and it fills up 23% of a depleted battery in 30 minutes, while it will take about 3 hours for a full recharge.
Our review unit turned out to be SIM-locked so we were unable to test its call and standby endurance, so our battery test is incomplete at this moment.
We still wanted to share with you the impressive battery performance in our video and web tests. Indeed, the Snapdragon 450 with the V7+ posted impressive scores and we can't wait to see the full aspects of its performance.
We will update the review as soon as we are able to resolve the issue or when we get a second unit. For now, consider this a work in progress.
Connectivity
The vivo V7+ is a dual SIM device – it accepts two nano-SIM cards and supports LTE 300Mbps download and 150Mbps uplink. The modem covers all necessary 2G and 3G bands, but the 4G support is rather limited and it omits the widespread band 20 in Europe.
There is single-band Wi-Fi b/g/n with Wi-Fi Direct and hotspot support, Bluetooth 4.1, and GPS, GLONASS, GALIOLEO and Beidou for positioning. While the Snapdragon 450 SoC offers high-end Wi-Fi chip, vivo chose not to fully utilize it. There is no NFC support either.
The vivo V7+ comes with FM radio on board.
A microUSB 2.0 port is used for charging and attaching peripherals (OTG needs to be enabled in settings), and there's a good old 3.5mm headphone jack.
Software overview
The vivo V7+ runs on Android 7.1.2 Nougat OS with vivo's custom Funtouch v3.2 overlay on top. As with other Chinese manufacturers, that means a single-tiered interface with no app drawer. We hoped for vivo to jettison those iOS looks, but the maker insists on keeping everything as close to iOS as possible.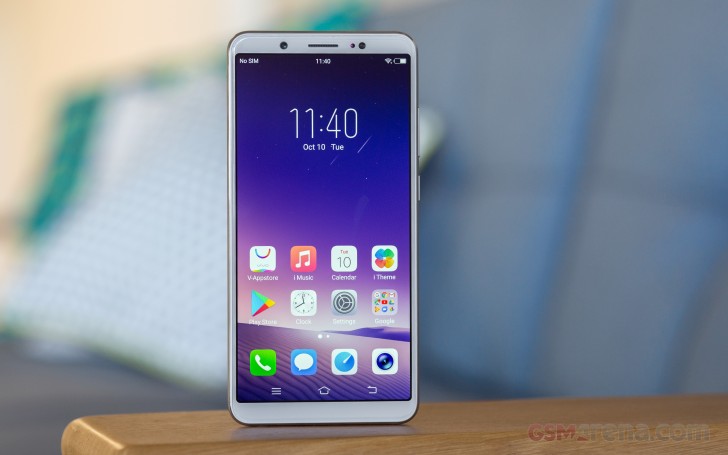 So, Funtouch has a slick user interface with a slew of features, making for an interesting Android skin. There is App Clone, Smart Split and even Face Unlock.
The lockscreen is pretty basic – there is a clock and two shortcuts. It is a part of the theme support, though, so you can freshen it up from the Themes app.
The fingerprint sensor is always-on, very fast and accurate. You can also setup face unlock in addition to fingerprint security, but you will need to wake up the screen in order for it to work.
The face recognition can be fast or regular. The fast option indeed recognizes your face quicker, but it can be fooled with a picture. The other one relies on a more in-depth facial recognition algorithm and vivo says it's more secure. It can't be as safe as Apple's Face ID, but apparently this kind of authentication is now a thing and the Chinese makers are offering it, pretty well at that.
Default lockscreen • Fingerprint security • Setting up • Setting up Face Unlock • Face Unlock
Past the lockscreen you get a single-tier interface with no app drawer. Meanwhile, swiping up from the bottom edge brings out a combined toggles/brightness/tasks drawer, reminiscent of the old iOS Control center. Closing apps works with a cheerful "Speed up" button.
The V7+ has its own Themes app and you can choose from a very rich theme store. The theme-able elements are the wallpapers (lock and homescreen, dialer, messenger), and the system font.
The vivo V7+ comes with extensive gesture and motion functionality, found in settings under Smart motion. Smart wake works with the display off and lets you draw letters to launch specific apps, unlock with an upward swipe without lighting the screen beforehand, or launch the camera with a downward swipe. There are multiple settings for flashlight or camera launch with the volume keys, too.
There's Smart Split, which allows you to split the display and launch two apps side-by-side. This is only limited to just a few supported messaging apps – Messages, Facebook, Whatsapp. It works only when you are within one of these messengers, say Facebook, and receive a notification from some of the others, say Whatsapp. Then you can expand the Whatsapp floating icon into the full-blown app, which will share the screen with Facebook.
Source by gsmarena..
Share:
loading...